These photos were taken on December 15 2003 in Havana. Click on an image to see a higher-resolution copy.
---
A performance (I failed to write down the name of the ensemble) at Casa De La Amistad, Vedado, Havana.
---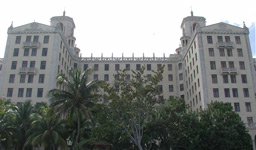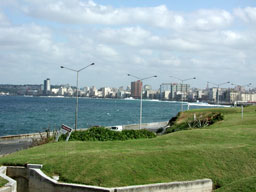 The Hotel Nacional, with a view of downtown Habana from its front yard. We saw the Buena Vista Social Club, plus the Afro Cuban All Stars, perform at this hotel on Wednesday, Dec. 17.
---
A performance by Bobby Carcasses at Dos Gardenios.
A second act was scheduled to perform after Bobby. Every piece of their equipment went up in smoke (literally; I saw it) when a piece of gear got plugged into a socket with the wrong voltage. End of show.
---
Back to DM's Cuba gallery
Back to DM's home page