Havana, Cuba, Dec. 13-20, 2010.
There are 6 pages of photos from this trip:
Architecture
Miscellaneous: people, street scenes, etc. (this page)
Castles
Cementerio de Cristóbal Colón
José Fuster's house & neighborhood
The cars of Havana

---

Dave, Jim, Leslie, Janine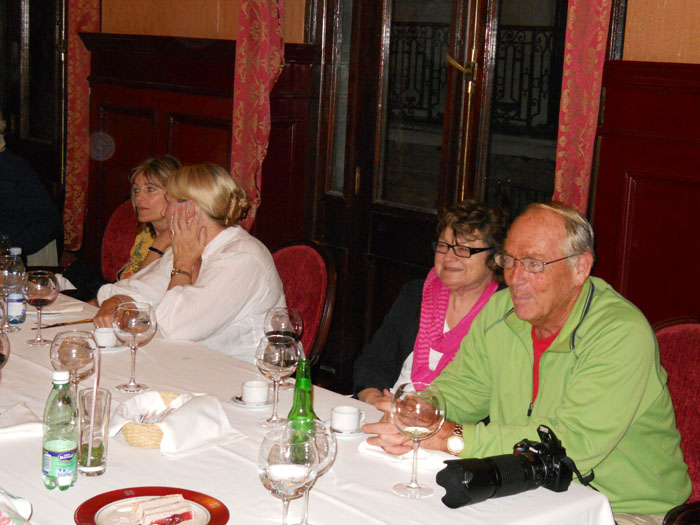 Christie, Paula, Karen, Frank

Carol, Dave, Leslie, Jim (in back)

Dave, Charlie, Kathy, Christie, Karen

Carol and Ilen, the mentors/guides who made it all possible.

Janine and Ernest and me. Ernest Hemingway that is, at El Floridita,
his favorite bar in Havana when he lived here.
---
The Museum of the Revolution, housed in the former Presidential Palace.

Batista's former office and desk.

Corner of the Cretins. That's Batista, Reagan, G. H. W. Bush, and G. W. Bush.
Ilen did not show us this part of the museum; I found it by my normal exploration mode.
---
Two views of the Prado, the first one is from our room at the Hotel Telegrafo.
---
The Malecon.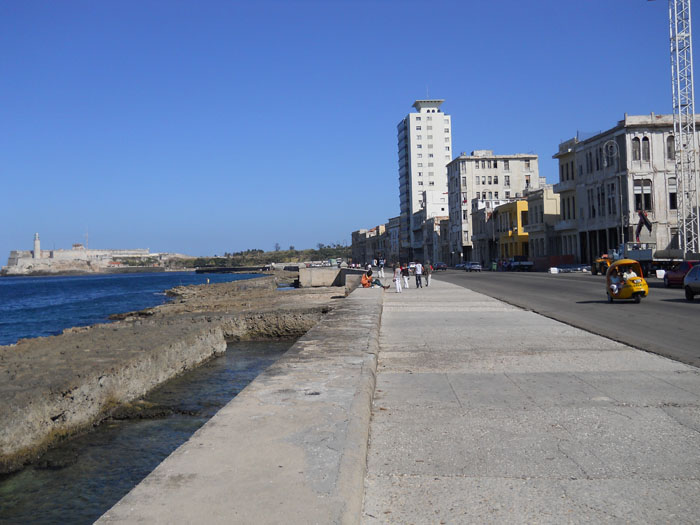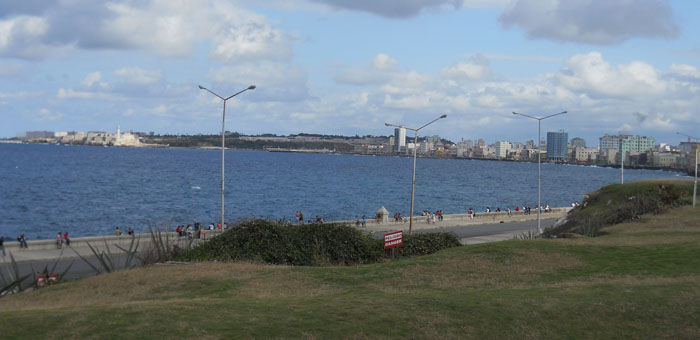 This looks east along the Malecon, towards Habana Vieja, from the Hotel Nacional.
---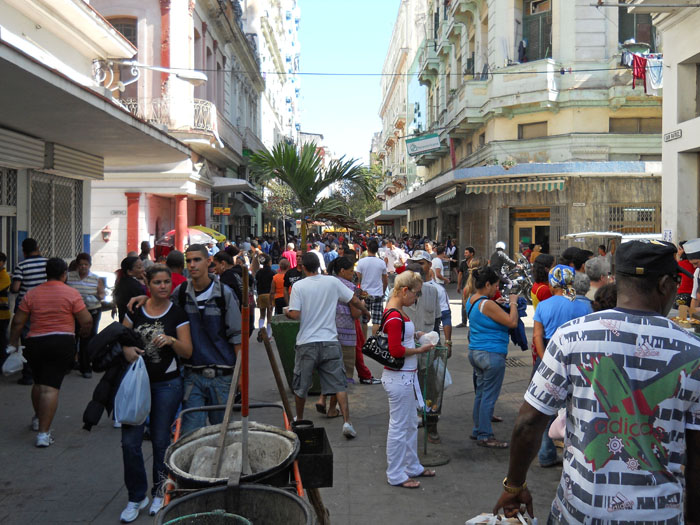 Calle Obispo. I fear that, 10 years after the US Travel Ban is lifted, this is going
to be the Bourbon Street of Havana. Go see it now before it's too late. If this place
doesn't open up your eyes and make you grin, you're toast.

---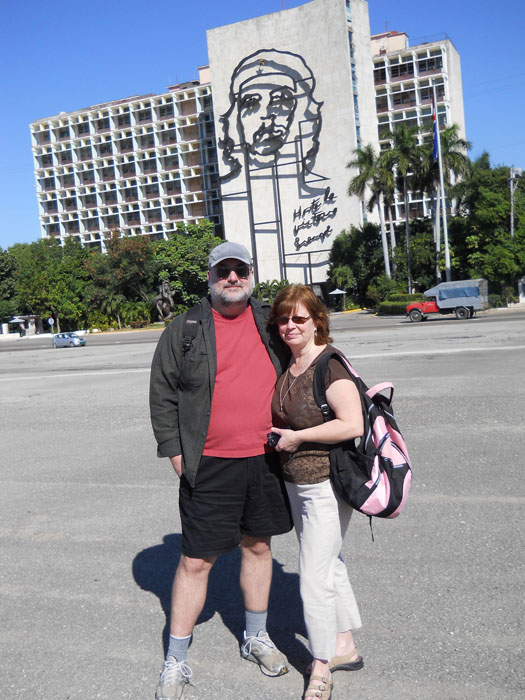 Weird - some scaffolding was put up, years ago, to do some work on a wall or what was left of a
building. The work was never finished, but the scaffolding remained...and turned into a gigantic trellis.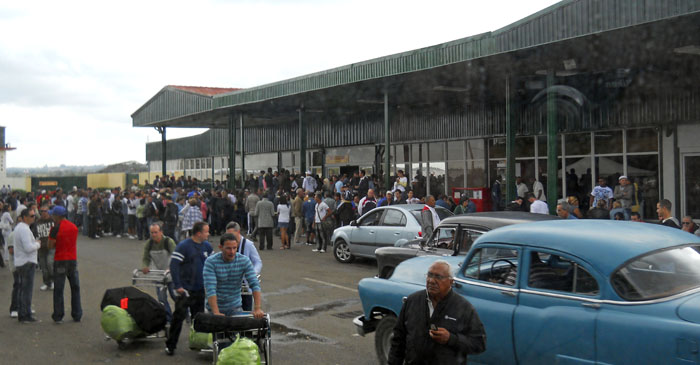 Typical madness at the airport. Same thing going and coming.
Really crazy and chaotic, but the funny thing is, I did not see a single soldier or armed
guard there. And I saw fewer cops and soldiers on the streets of Havana than you see cops in Seattle.
---
A Paladar, or private restaurant, where Janine and I ate once. Folks from all over the world
scrawled their names and countries on the walls, so we did too.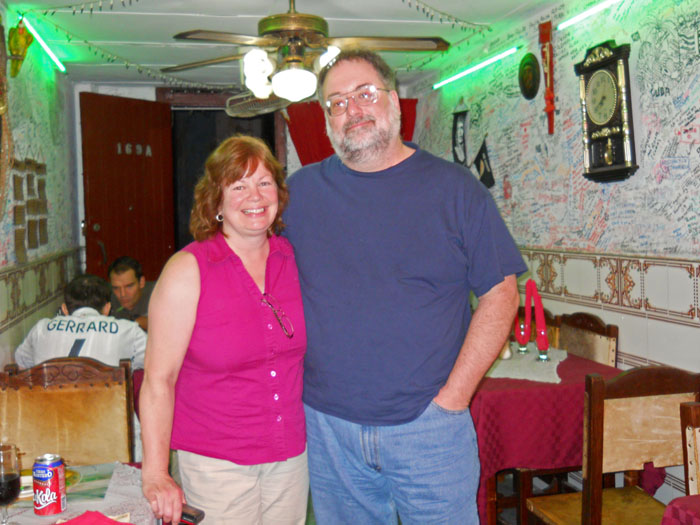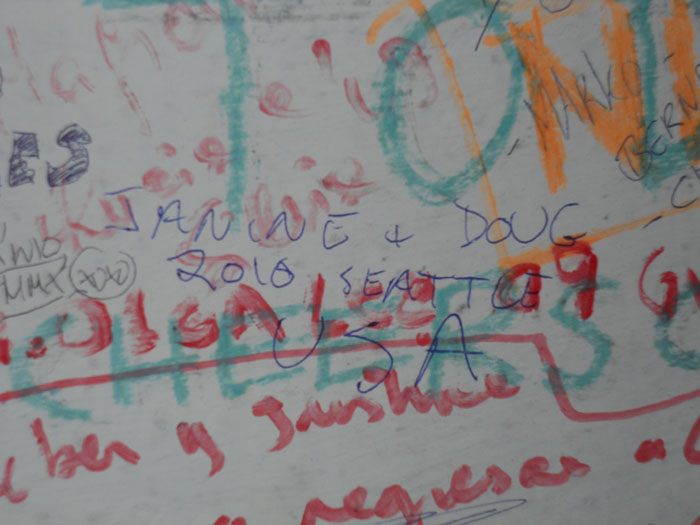 ---
More photos from this trip:
Architecture
Castles
Cementerio de Cristóbal Colón
José Fuster's house & neighborhood
The cars of Havana
---
| | |
| --- | --- |
| | Back to DM's Photo Page |
| | Back to dmitch.com Home |